ALBIXON
We bring pleasant experiences, active relaxation and enjoyable moments to your gardens for your family and loved ones.
---
Company mission:
Enjoy pleasant experiences, active relaxation and joyful moments with your 
family and loved ones in your outdoor homes.
Company vision:
We are eager to make your outdoor home more enjoyable with our 
innovative products.
Who we are and what we do?
We also supply customers with pool accessories and export our products to 70 countries worldwide.
We own a powder coating shop with the DECORAL line, which is one of the largest of its kind in Europe. Furthermore, thanks to its own development centre, which constantly follows the latest trends in technology, design, safety and environmental protection, the ALBIXON brand brings high-quality, innovative and technically sophisticated products to the market.
quality comes first for us

we are professionals

we care about ALBIXON

we are fair and open

we are constantly improving

we are team players
The story of ALBIXON a.s.
The Smetana brothers founded ALBIXON, and they started their business in 1985. After the revolution, in their parents' garage, they produced some of the first swimming pools in Czechoslovakia. At a time when everyone wanted to treat themselves to a little luxury, swimming pools were a dream come true for many people. The demand for ALBISTONE pools grew, and the company along with it. Currently, ALBIXON is the leading manufacturer of swimming pools and pool enclosures in Europe and we're also expanding to other continents.
"Our objective is not only to be the leading European but also the world's leading pool enclosure manufacturer. That's why we count on professionalism, responsibility and trustworthiness. As far as we are concerned, the interests and needs of our customers are the absolute priority, while top quality products and services are also a matter of course," says Jaroslav Smetana, the ALBIXON founder.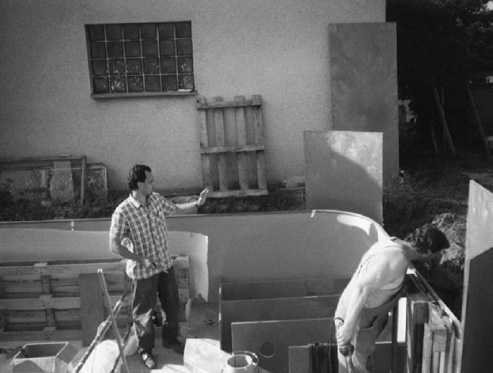 Internationally recognised certifications

We obtained a Declaration of Conformity with the NF P 90-309 (AFNOR) standard issued by the accredited LNE testing laboratory in France for the pool enclosure. View certifications.
Barbora Seemanová sponsorship
At ALBIXON, we support top Czech swimmer Barbora Seemanová.
ALKA non-profit organisation
The ALBIXON employees and company management donated a contribution for a special wheelchair to Peter and a collection for Míša for a bathroom renovation.
We plant trees
The idea of giving back to nature what we take from it was behind the creation of the "We plant trees" event in 2021. This is how a new tradition was born, every year ALBIXON staff plant new trees in the landscape.
MFK Dobříš
We support young footballers and MFK Dobříš football club.
The swimmer Barbora Seemanová became our ambassador
At ALBIXON, we support top Czech swimmer Barbora Seemanová. Bára enthusiastically accepted the ambassador's role within the CSR project #RozplavmeCesko and very much enjoys raising awareness about swimming.
We support young athletes and swimmers.