Your Garden, Your Pool, Our Passion
ALBIXON is a trusted manufacturer of pools, enclosures and pergolas, based in Prague. With our esteemed brand, we design and create delightful garden experiences, ensuring memorable moments for your family and loved ones.
---
Albixon's Journey Through Time
ALBIXON's journey began in 1985, when the Smetana brothers took the first steps in their entrepreneurial adventure. Post-revolution, they were pioneers, producing some of the earliest swimming pools in Czechoslovakia from their parents' garage. In a time when luxury was a newfound joy, their pools turned dreams into reality for many. As the allure of ALBISTONE pools spread, the company flourished alongside it. Today, ALBIXON stands tall as Europe's leading manufacturer of swimming pools and pool enclosures, with a growing presence on other continents.
"Our ambition extends beyond being the premier European manufacturer; we aspire to become the world's leading pool enclosure producer. Our foundations are built on professionalism, responsibility, and trustworthiness. We prioritize our customers' interests and needs while maintaining our commitment to delivering top-quality products and services," shares Jaroslav Smetana, the founder of ALBIXON."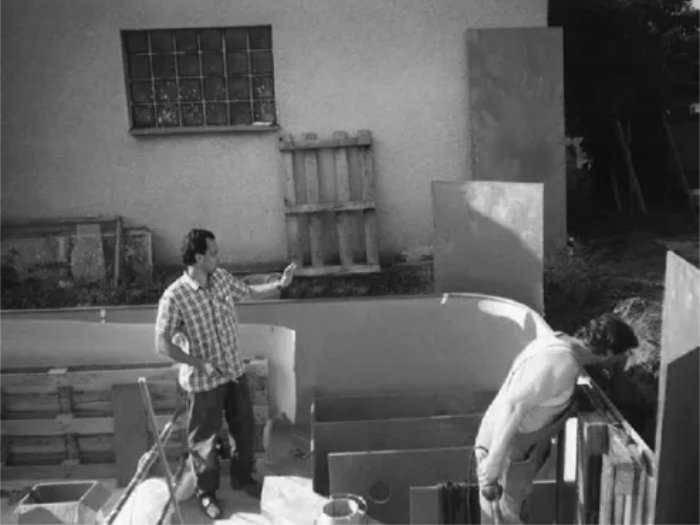 Quality Above All

Sustainability in Practice

Professionalism at Core

Openness and Fairness

Committed to Improvement

Pricing Stability Promise
Understanding ALBIXON
From 1990, ALBIXON's pools, enclosures, pergolas, and accessories have reached 70+ countries worldwide.
Our brand represents quality, innovation, and technical sophistication, with our own development centre continuously following the latest trends in technology, design, safety, and environmental protection.
With over 450 highly skilled employees, we boast a production capacity of 5,000 pools, 10,000 pool enclosures, and pergolas annually, spread across more than 99,000 m2 of production and storage space. This has led to an impressive portfolio of over 30,000 installed pools and 90,000 enclosures.
Our facilities house one of the largest powder coating shops in Europe, featuring modern DECORAL technology. Selected products and manufacturing procedures are protected by utility models and internationally recognized certificates. All our series enclosures meet the requirements of the AFNOR standard NF P 90-309 (October 2007).
At Albixon, we pride ourselves on our modern production processes, which leverage quality materials specially developed for swimming pools. We useonly the highest quality materials, such as ALBISTONE® and POLYSTONE® from the esteemed German manufacturer Röchling. Our commitment to top-tier materials and the latest technologies ensures that we consistently deliver the best products to our customers.
Looking for a Reliable Pool Manufacturing Partner?                                               Become a Partner!    
Interesting Margins
Profit from our competitive pricing and healthy profit margins.
Discount System
Benefit from our advantageous discount system designed for partners.
Entry Training
Get comprehensive training to ensure smooth collaboration and success.
Samples and Catalogues
Access our detailed samples and catalogues for effective sales pitching.
Internationally recognised certifications

We obtained a Declaration of Conformity with the NF P 90-309 (AFNOR) standard issued by the accredited LNE testing laboratory in France for the pool enclosure. View certifications.
Proud Achievements
At ALBIXON, we take immense pride in our diverse and successful projects. From innovative pool designs to functional pergolas and secure enclosures, our work can be seen enhancing outdoor spaces across numerous locations. Here are a few examples of our significant realizations.
Understanding Albixon
Discover who we are and what we create for you.
Journey Through Time
Explore Albixon's rich history and evolution.
Core Principles
Our values that shape and drive our operations.
Proud Achievements
Get inspired by our past successful endeavors.
Customer references
Get inspired by selected realisations from over 35,000 installed pools.
VIEW ALL